Top Dating Sites Near Kathmandu
Finding a perfect dating site near Kathmandu to have some romantic time for couples can be a daunting task if you don't like going to expensive restaurants. The list is not a collection of private dating spots but these are public places which could be suitable for dating. The beauty of these places is the natural environment and romantic touch added by nature itself. You get to spend your time with nature along with your loved ones and admire the beauty of both. Here is the list of top dating sites near Kathmandu.
Located in the heart of Kathmandu near side Thamel,  is a beautiful place suitable for every type of visitors. Created by late Field Marshal Kaiser Sumsher Rana (1892-1964) in early 1920, after some restorations garden is open for the public to visit. You will find a peaceful environment within the busy and loud Kathmandu city. It is a perfect place to spend some quiet time reading books. It is also perfect for couples to spend some romantic time.
Taudaha is a small pond which is popular for its lovely view. "Ta" means snake and "Daha" means lake, meaning the lake of snakes. The word "Taudaha" is from the Newari language. It is located in Kritipur. As Per history of Nepal, Manjushree cut the hill and drained water from the valley. Small lakes were created and "Taudaha" is believed as one of them. The lake is worshipped. So, swimming and fishing are not allowed. This is not only a holy place but it is bird watching place in winter as well.
Ask 10 friends of yours to name 10 fun places they have been; almost all of them are likely to include Nagarkot on their list if they are from Valley. Nagarkot is definitely a fun place to be. It is most famous for the luring view of sunrise and sunset. It is best suitable for couples to mingle. Nagarkot is 32km far from Kathmandu valley. You can easily reach by taking bus from Kathmandu to Kamalbinayak then by next bus from therein to Nagarkot. Taking public vehicle will give you time to elongate your day trip by hiking through the beautiful roadways of the forest. Bikes and private vehicles are easier if you have one. Resorts and lodges are plenty in number if you want to spend your night to view the sunrise. Not to forget the place is quite expensive to stay. You can have 360 views of Himalayas if the weather is favorable.
Tranquillity is what the Buddhist monastery uphill of Phulbari offers if you are ready for light hiking of about 40-50 minutes. Taking a bus, tempo or even bike ride to Gokarna is suitable to reach the popularly known picnic spot. With wide area coverage, this spot is suitable for all kinds of visitors. Past the picnic spot, walk for 15 minutes to the Gumba to observe the nature's beauty and to feel the presence of peace and the delight that it provides. Recalling the places among the ones I have visited that monastery is so far the most peaceful place.
Even though Siddha Pokhari is not a natural water source it has the magical power to create the beautiful mood for you to hang out during evenings. The man-made pond has its own historical significance. It is the starting point of Bhaktapur Durbar Square. Even with the presence of a group of varied visitors the pond has the power of creating a peaceful environment. It is also a perfect place to isolate yourself from the crowded city and busy workday to enjoy the silence. You can enjoy fish feeding if you like. Siddha Pokhari is easiest to reach as it is in Bhaktapur Durbar area.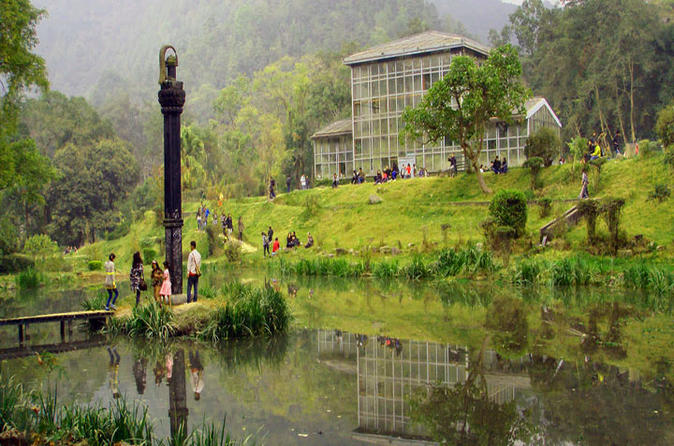 Godwari is known for the beautiful environment with a wide area to enjoy day picnic, hiking.  It is located in Lalitpur district. You can catch a bus from Guarkho and get there in about an hour or more. The wide variety of flowers, orchids, butterflies, rare and birds can be observed in the botanical garden. Godwari Mela takes place every twelve years for celebration and people from different places visit to be a part of this religious event. There is Godwari Kunda which is for taking a sacred bath in holy water.